A Colorado woman who was trapped in her automobile for six days following a car accident has sued automaker General Motors. The woman alleges GM knew some of its motor vehicle safety features were defective, and she was imprisoned in the car as a result of the defective systems. Hopkins and her lawyer have filed a personal injury and product liability lawsuit against GM, claiming the car manufacturer's negligence is partially to blame for her ordeal.
(Article continues below infographic)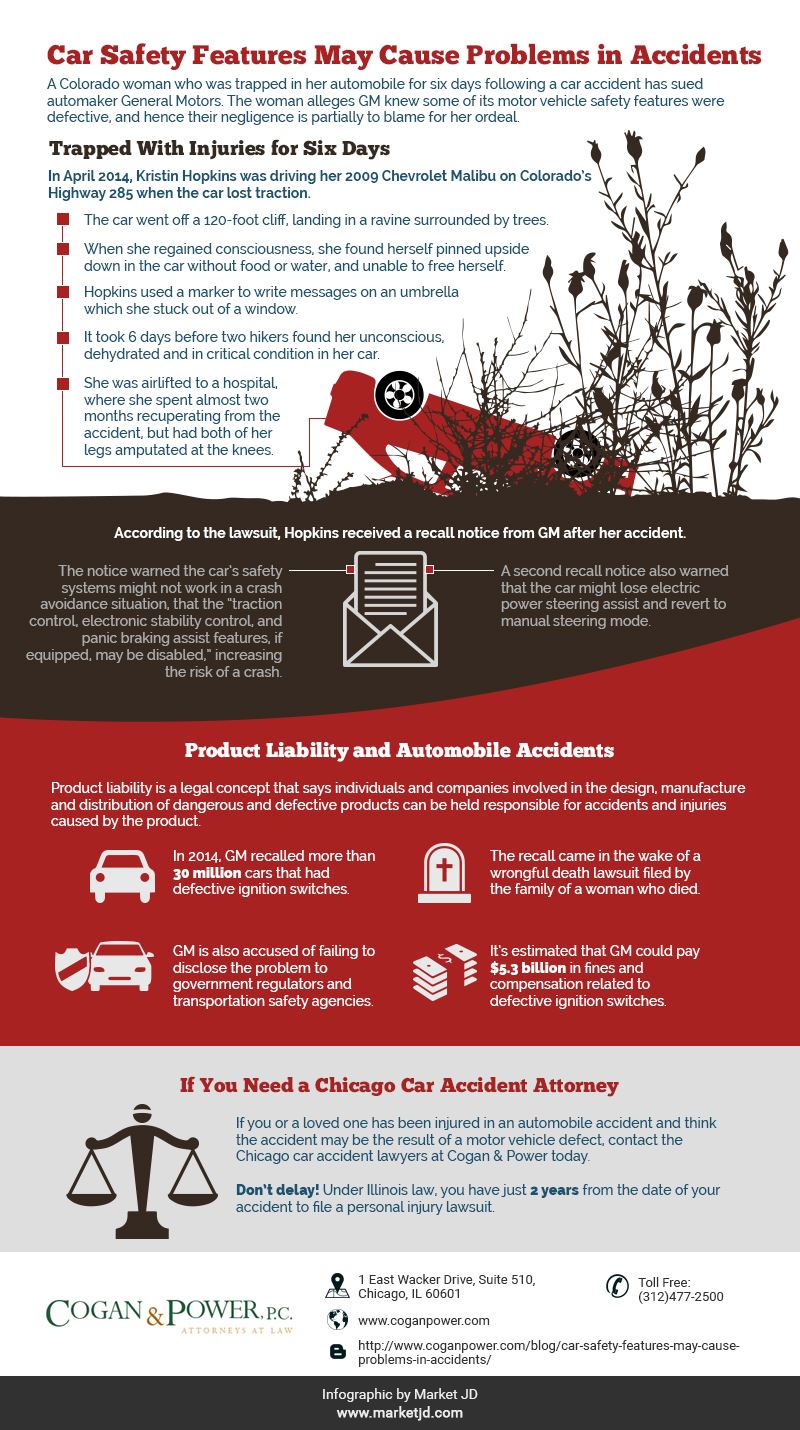 Trapped With Injuries for Six Days
In April 2014, Kristin Hopkins was driving her 2009 Chevrolet Malibu on Colorado's Highway 285 when the car lost traction. The car went off a 120-foot cliff, landing in a ravine surrounded by trees. When she regained consciousness, she found herself pinned upside down in the car without food or water, and unable to free herself. Hopkins found a marker and used it to write messages on a red and white umbrella she stuck out of a window. The messages included "doors are locked can't get out," "need doctor hurt and bleeding" and "6 days no food or water."
Hopkins' family reported her missing, but it took six days before two hikers found her unconscious, dehydrated and in critical condition in her car. She was airlifted to a hospital, where she spent almost two months recuperating from the accident. Ultimately both of her legs were amputated at the knees.
According to the lawsuit, Hopkins received a recall notice from GM after her accident. The notice warned the car's safety systems might not work in a crash avoidance situation, that the "traction control, electronic stability control, and panic braking assist features, if equipped, may be disabled," increasing the risk of a crash. A second recall notice also warned that the car might lose electric power steering assist and revert to manual steering mode.
The Denver Post reports that a former Chrysler engineer hired by Hopkins and her lawyer who "determined that the data on the Malibu's 'black box' definitively linked the malfunctions described in the notifications to the crash." The car was reportedly traveling at 63 mph at the time of the accident; the highway's posted speed limit ranges between 55 and 65 mph. Toxicology reports found no signs of drugs in her system.
Although Hopkins received the recall notices after her accident occurred, The Denver Post reports:
"[T]he lawsuit claims that based on documents GM provided the National Highway Traffic Safety Administration, the company first learned of the problem with the electronic stability control on the Malibu in 2008 — six years before Hopkins' accident."
Product Liability and Automobile Accidents
General Motors has faced a barrage of product liability lawsuits in recent years related to defective automobiles. Product liability is a legal concept that says individuals and companies involved in the design, manufacture and distribution of dangerous and defective products can be held responsible for accidents and injuries caused by the product.
In 2014, GM recalled more than 30 million cars that had defective ignition switches. Hundreds of deaths have been attributed to the defective switches. The recall came in the wake of a wrongful death lawsuit filed by the family of a woman who died. Only after the family's lawyer received thousands of pages of evidence from GM and conducted depositions of several GM engineers did it come to light that the auto maker had been aware of the problem for about a decade before issuing the recall. GM is also accused of failing to disclose the problem to government regulators and transportation safety agencies. It's estimated that GM could pay $5.3 billion in fines and compensation related to defective ignition switches.
According to The Denver Post, Hopkins' car accident lawyer has a clear message that he hopes to send to GM in regard to Hopkins' accident: "These are real lives being affected by corporate decisions," he says. "Maybe this teaches GM a lesson — don't wait so long to issue a recall."
If You Need a Chicago Car Accident Attorney
If you or a loved one has been injured in an automobile accident and think the accident may be the result of a motor vehicle defect, contact the Chicago car accident lawyers at Cogan & Power today. Our team of automobile accident attorneys have experience representing car crash victims in personal injury lawsuits and product liability cases.
Don't delay! Under Illinois law, you have just two years from the date of your accident to file a personal injury lawsuit. Call Cogan & Power at (312) 477-2500 to schedule a free consultation. Our Chicago auto accident lawyers will arrange to meet with you, review the details surrounding your accident and help determine whether you are entitled to compensation from the auto manufacturer or another party that bears the blame for your accident.